LAC 2011 is supported by


The Linux Audio Conference is an international conference about Open Source Software for music, sound and other media with Linux as the main platform.
LAC 2011 is over...
... but we are not done yet!
Videos and Images are dropping in and it takes a bit to sort it all out. Conference material and the proceedings will be published in the following weeks. Stay tuned.
Goals
To bring developers, musicians, composers and other users together
To discuss the Linux Audio core system
To discuss Linux Audio applications
To discuss Open Source music and sound applications
To inform about Open Source Software for Music
To inform about Open Content licences
To collaborate and exchange information
To improve the software
To understand the needs of the users
To enjoy music and art performances at the conference
Target audience
The Linux Audio Conference audience consists of software designers, programmers, musicians, composers, engineers and others with a serious interest in Open Source Software for Music and Sound.
What to expect
Presentations
Poster sessions
Workshops
Concerts
Live coding sessions
Keynote by Fons Adriaensen
Invited session: Yann Orlarey (FAUST), Iohannes M. Zmoelnig (Pd), Vesa Norilo (PWGL), John Ffitch (Csound), Tim Blechmann (SuperNova)
Where & When
May 6-8 2011, Maynooth, Ireland. See the Contact and Travel pages for details.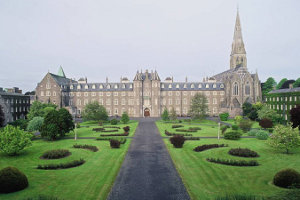 Who?
Check out the list of participants to see who else is coming.
The LAC is a GNU/Linux free/libre software community organised event by the Linux-Audio-Users and -Developers. LAC2011 is under the auspices of NUIM, organised by Victor Lazzarini with assistance of John Lato, Frank Neumann and Robin Gareus.
Review committee: (in alphabetical order)
Fons Adriaensen, Kokkinizita.net, Italy
Frank Barknecht, Footils.org, Germany
Ivica Bukvic, Virginia Tech, USA
Götz Dipper, ZKM|Zentrum für Kunst und Medientechnologie, Germany
Robin Gareus, linuxaudio.org, France
Jari Kleimola, Aalto University, Finland
John Lato, National University of Ireland, Maynooth, Ireland
Victor Lazzarini, National University of Ireland, Maynooth, Ireland
Jörn Nettingsmeier, StackingDwarves.net, Germany
Frank Neumann, Harman International, Germany
Marcelo Queiroz, University of São Paulo, Brazil
Martin Rumori, Institute of Electronic Music and Acoustics, Graz, Austria
Sampo Savolainen, Finland

Links to prior Linux Audio Conferences