The sunclock at the Piazza Garibaldi in Parma's central place - not sure if I understood how to read it.
---

Richard Spindler found his way through Parma thanks to the great OpenStreetMap project.
---

Against Fons' expectations, the "conference warm-up dinner" included not 14 but rather 23 attendants. Fortunately the restaurant was flexible and quickly extended our range of tables so we could all take a seat at one laaarge table :-).
---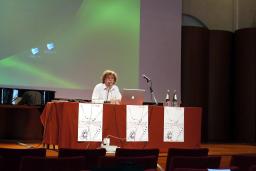 Fons Adriaensen, the main organizer of this conference, welcomes everyone on Thursday morning and opens the conference programme.
---

A beard comparison between Michael Chapman (left) and John ffitch. The idea was to cut out just the beards from the photos, present them to the audience and check whether they could tell apart those two guys.
---

Jörn Nettingsmeier (left) and Pieter Palmers, doing some last-second hacks to the encoding laptop that was supposed to stream the concert.
---

Close-up of the last-second hacks. Artists' impression :-).
---

Malte Steiner (see also http://www.block4.com/ performing at Thursday's concert with his own visualization software and data glove.
---

Leaving the Auditorium Paganini after the first concert. An impressive building.
---

After the concert, it's "back to stuff that matters". In this case, Sampo Savolainen and Pau Arumi discuss some feature that Pau wants in Ardour.
---

A shot of the lecture room where all of this year's presentations took place.
---

Just having fun with my new camera (Panasonic Lumix G1).
---

The conference poster artwork for this year.
---

Authors of different notation software projects gather during the lunch break for some technical chit-chat. From left to right: Matevz Jekovec (Ljubljana, Slovenia), Reinhard Katzmann (Pforzheim, Germany), Georg Rudolph (Tübingen / Germany), Werner Schweer (Clarholz-Herzebrock, Germany)
---

Making of "Parma Noises" - this is me in my hotel room, recording strange noises that came from "somewhere behind the air ventilation". These noises reminded me of claws scratching over metal, but they were in fact air bubbles in the water pipes. They were the reason why I could not sleep the first night in that hotel.
Unfortunately I could not attend the Linux Sound Night on Friday due to a..hm.."nervous stomache", so, feeling rather depressed in the hotel, I decided to do something stupid and record this sound and post-process it a bit (normalize, and the very nice Calf reverb. I have called the result Parma Noises. Hope you enjoy it.
Quote from Sunday: "No, this is not my stomache!" :-)
Another Quote: "You should submit that for next LAC's Call for Music" :-)))
Thanks to ce for lending me the Edirol UA-25 - together with an eeePC and microphone, this makes for a pretty nice mobile audio recording system.
---

Fons, unwittingly presenting the T-shirt design for this conference. To the next LAC organizer: Don't forget to order enough L/XL sizes shirts next year - they were sold out pretty quickly here!
---

Free Ekanayaka, presenting the "Transmission" mobile audio solution on a Samsung hand-held PC.
---

Alexander Carot, Jörn Nettingsmeier and Torben Hohn setting up their system for the live NetJACK demonstration between Parma and Lübeck (North Germany, 1000km air distance)
---

Necessary photo of cable chaos. Once again, no casualties this year due to electric shock or people stumbling over cables! Woohoo!
---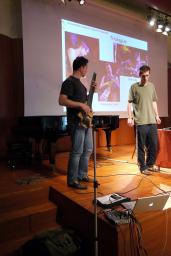 Alexander Carot (Triologue, playing his Chapman stick live together with his band in Lübeck, suffering some 120ms of latency (but he mastered that pretty well!)
---

Fernando Lopez-Lezcano's setup during the second concert on Saturday for his piece "A very fractal cat".
---

Fernando, presenting his gear and how he operates it, to the interested audience.
---

Jörn Nettingsmeier, at the operator desk, handling a lot of tasks simultaneously (room sound, steering the cameras, image compositing, having an eye at the stream encoder, chatting, and perhaps a thousand things more.
Quote from IRC:
Q:"How many cameraman do you have in there?"
A:"Well, there's basically me, me and then me."
---

Artistic shot of Jörn work place. Mmhhh..buttons. Faders. Potis :-).
---

Florian "faberman" Faber's dog, Mele. Everybody's darling, quickly dubbed the "conference dog".
---

Sampo Savolainen, announcing the plans for an Ardour "bugathon" to come soon.
---

Angelo Farina during what was planned to be the panel discussion near the conference's end.
---

Artistic shot of the "web character" of the conference. As I heard, the quality of the video recordings was pretty good this year, thanks to the brave folks at xiph.org. Kudos!
---

The obligatory group photo of those who were brave enough to attend the conference until the very end. Taken in the Casa del Suono, right below the "Lampadario sonoro" (Wavefield Synthesis installation), which is unfortunately not visible in this picture due to the limited wide-angle range of my camera.
---

Another group photo, including yours truly. See you next year, hopefully in the Netherlands!
---

Shot from the final evening's (conference cool-down) dinner at the "Al Corsaro" in Parma downtown. Oh, I'll miss the good italian food there :-].
---

Another shot from the closing dinner.
---

Another shot from the closing dinner.
---

"How the Internet audience attended the conference". Photo by Marc-Olivier Barre (thanks!)
---
All photos except the last taken by Frank Neumann and Birte Viermann.